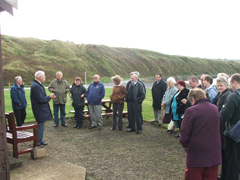 This picture shows Kenneth Toop giving a short service before presenting the Charlie Millar Memorial Bench to his widow, Margaret Millar. The presentation was held in front of family, friends and dad's Royal Oak family. Dad's Royal Oak family he classed as his extended family.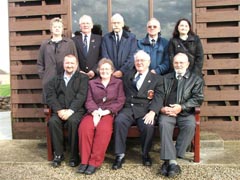 Back row from left to right - Heather Taylor, Charlie's daughter - Bryan Taylor, President of Kirkwall Royal British Legion - Kenneth Toop, HMS Royal Oak survivor and Honorary Secretary of the HMS Royal Oak Survivors Association - Donnie Sutherland, Kirkwall Royal British Legion committee member - Agnes McBarron, daughter of Charlie Millar B.E.M.
Front row left to right - Eoin Millar, son of Charlie - Margaret Millar, Charlie's widow - Bert Pocock, HMS Royal Oak survivor - Arthur Smith, HMS Royal oak survivor.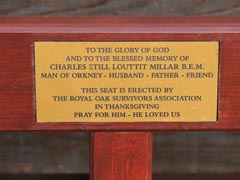 The plaque which captures the memory of dad.
Kenneth Toop placing the Memorial Cards, from the families of those who were lost, in the Garden of Remembrance cabinet at Scapa.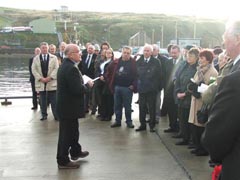 Reverend Jack Muir conducting the Memorial Service on Scapa Pier before boarding the Herston Lass for the site where HMS Royal Oak lies. Sunday was such a calm day that when the two minutes silence took place all that was heard was the sound of the water against Scapa Pier, very poignant.
Back row left to right Reverend Jack Muir, Kenneth Toop, Lilian Toop. Front row Norman Thackeray, Arthur Smith and Bert Pocock on their way to HMS Royal Oak's final resting place.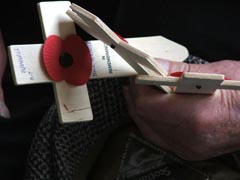 Three poppy crosses in the hand of HMS Royal Oak survivor Bert Pocock, the three crosses signify the lives of Francis William (Bill) Annell , Robert (Bob) Thompson and Dudley (Douggie) Webb. The three boys were all from Reading in Berkshire same as Bert.
Left to right Kirkwall City Pipe Band piper Arnold Calder - Eoin Millar who laid a wreath on behalf of Ian Travers and Tina Steele who couldn't make the journey north this year, Ian lost his great uncle Thomas George Godwin - David Hughes Royal Naval Association - Danny O' Hagan Kirkwall Royal British Legion - Tony Trickett Lord Lieutenant of Orkney - Lieutenant Commander John Law, who is based at Faslane with the Flag Officer Scotland, Northern England and Northern Ireland.

Agnes McBarron who laid a wreath on behalf of Brian Godwin, nephew of Leading Telegraphist Thomas George Godwin. Brian was unable to attend this year's service.
The wreaths being cast on the still waters of Scapa Flow.
A report by Craig Taylor, Orkney Today newspaper.
FOUR survivors of the sinking of the battleship HMS 'Royal Oak' were reunited in Orkney at the weekend, on the 68th anniversary of the loss of the battleship.
They remembered and paid their respects to their 833 shipmates who died when a German U-boat torpedoed the battleship, which lay at anchor in Scapa Flow, shortly after 1am of October 14, 1939.
Lieutenant Colonel Norman Thackeray, Arthur Smith, Kenneth Toop, and Bert Pocock gathered together on Sunday onboard the Talisman launch 'Herston Lass' at the buoy in Scapa Flow which marks the resting place of their Navy colleagues.
Poppy wreaths and wooden crosses again floated on the surface of a calm sea above the wreck which marks the final resting place of so many victims of war.
They are four of only 17 survivors who remain and they travelled from their homes in England to mark the occasion.
The survivors were joined by relatives of those who were lost on the battleship who had also travelled to Orkney from around the UK to be present to pay their respects.
The anniversary of the sinking is of course, always tinged with sadness, and this year was no exception, as those attending also paid tribute to Royal British Legion stalwart Charlie Millar BEM who sadly died in December. Charlie was well known to many families who visited Orkney in relation to the 'Royal Oak' for many years. He was chairman of the Kirkwall Branch of the Royal British Legion and also served as pensions and welfare officer of branch.
He was involved in assisting visitors connected with the 'Royal Oak' for 40 years going back to 1966, until his death last year. Agnes McBarron, Charlie's daughter, was also involved when her father was still alive, and now carries on in his footsteps acting as an Orkney contact for those involved in the 'Royal Oak.'
She is assisted by Kirkwall Legion member Donnie Sutherland who Agnes describes as her "right hand man' when it comes to coordinating with the Legion.
On Saturday morning a bench, provided by the Royal Oak Survivors Association, was dedicated to the memory of Charlie in the garden of remembrance at Scapa.
Kenneth Toop told the emotional gathering that it had been his privilege to collect funds for the bench.
"We remember Charlie constantly in our prayers, and we present this to Margaret in perpetual memory of her dear husband with love and abiding affection," he added.
Mr Toop also went inside the wooden building at the gardens and placed wreaths and memorial cards from family members and survivors who were unable to come to Orkney to mark the anniversary themselves. In his remembrance service dedicated to those who lost their lives onboard HMS 'Royal Oak' at Scapa Pier on the bright calm Sunday morning, Rev Jack Muir said that men young and old had been cast on a dark Orkney shore and they never saw sunrise again.
"Here they remain forever but they are never forgotten. We walk in the freedom for which they died for," he said during the service. President of the Kirkwall Branch of the Royal British Legion, Bryan Taylor then said the words of Binyon, which ends, "We will remember them." After the service everyone present boarded a launch kindly supplied by Talisman Energy, operators of the Flotta Oil terminal, and went on the short journey to the wreck site which is marked by a single green buoy, where wreaths were laid respects were paid.
The survivors and family members placed tributes in the sea over the wreck. Among those laying wreaths, flowers and other tributes were Agnes McBarron and Eoin Millar, son and daughter of the later Charlie Millar, Lieutenant Commander John Law, who is based at Faslane with the Flag Officer Scotland, Northern England and Northern Ireland (FOSNNI), Tony Trickett Lord Lieutenant of Orkney, Danny O'Hagan committee member of the Kirkwall Branch of the Royal British Legion and Orkney branch Royal Naval Association chairman David Hughes.
Arnold Calder from Kirkwall City Pipe Band played the pipes as the wreaths were placed in the water.
Also taking part in the service were representatives from the Stromness Royal British Legion.
Survivors Kenneth Toop, Bert Pocock and Arthur Smith earlier visited the the Stromness Legion where they saw the framed ensign from HMS 'Royal Oak' which is now on display in the branch.
The ensign was earlier gifted to the branch by the late Charlie Millar and was recently put on display after being framed. It was also fitted with a plaque to remember Stromness boy Willie Baker and James Moar from Birsay who lost their lives in the sinking.
After the service in Scapa Flow the group made their way to the Kirkwall legion for refreshments.
Kenneth Toop, 84, who runs the Royal Oak Survivors Association again travelled from his home in Basingstoke for the anniversary with his wife Lillian.
"It is very important for Orkney that this carries on and the 'Royal Oak' is remembered," he said, after the ceremony."
He added: "Even now I am still hearing from people for the first time. We thought that there were 14 survivors left then we heard from another three, including hearing from two in two days.
"I have also sent the Queen a copy of the order of service from our recent remembrance ceremony in Portsmouth and will do so again next year, in the hope that the Royal Family can be represented at the 70th anniversary in two years time."
Survivor Bert Pocock, 85, from Reading said: "When I laid the wreath on the water it was very emotional and it made me very sad to think of my friends down there. It never goes away, I still think of them." 85-year-old survivor Arthur Smith who lives in Ashford, Middlesex also said that it had been an emotional return to Orkney.
He was later presented with the Naval ensign which has been over the wreck of the 'Royal Oak' for the past year.
A team of divers from the Northern Diving Group earlier on in the week changed the ensign which is placed over the wreck of 'HMS Royal Oak' each year.
This duty was led for the first time by Chief Petty Officer Paddy Donohue, who said that is it was privilege to undertake the task. The team, who are based at Faslane also had representatives from the Southern Diving Group and the Bomb Disposal school in Chatham with them. The Diving Group also paid a private visit to the grave of Charlie Millar where they laid a hand made wreath in the form of an anchor. Speaking after he was presented with the ensign by members of the Royal Navy Northern Diving Group Arthur Smith said: "I am lost for words. This is an honour and a privilege and something I will treasure for the rest of my life. It was wonderful and very touching as it really means so much to me." Lieutenant Colonel Norman Thackeray, 87, who lives in Shropshire said that he felt it important to once again return to Orkney on the anniversary to remember those who were not able to escape the sinking. He explained: "It has been a long way for an old man like me to come as I have just returned from a holiday cruising the Rhine in Germany. It is very nice for the Legion here in Kirkwall to do this for us. "I was also very saddened, and absolutely staggered to hear of the death of Charlie Millar. I was very impressed with him when I met him, he was a super chap."
President of the Kirkwall Branch of the Royal British Legion, Bryan Taylor, said that it was a splendid service by the legion Padre Jack Muir. "It is always an honour to have the survivors and family members return to Orkney for the anniversary," he added.
Chairman of the Kirkwall Legion, John McCafferty, agreed that it was indeed an honour for the branch to have the survivors present for the weekend. Relatives of those who were lost present at Scapa for the ceremony were: Dr Stephen Clackson nephew of OS Ronald Clackson along with Wulfric Clackson. Tony Hicks, son of AS Albert Edward Hicks along with Claire Hicks and Nicola Inglis.
Dorothy Cornish, daughter-in-law of AS Charles Frederick Cornish & Cousin of George Woodford along with Daniel Turner.
John McNally nephew of Boy 1st Class Harry Griffin, accompanied by Gillian McNally.
Shirley Bird, niece of Marine Kenneth Edwin Hall, accompanied by Colin and Jennie Bird.
Bryan Wilkins, son of AS Joseph Paschal Wilkins. Charles Watts, nephew of AS Herbert Cyril Watts.
Paula Baker, niece of Boy 1st Class William Savage with Lucy Reynolds. Sonia Agar and Georgette Skidmore - Sister of Boy 1st Class Edwin Furby accompanied by Suzette Smith and Roger Smith. Susan Bedford and Richard Bedford, Susan's father Percy Leo Allen was lost when the ship went down.
A report by Craig Taylor, Orkney Today newspaper.
(click on each image to see a larger version)