Introduction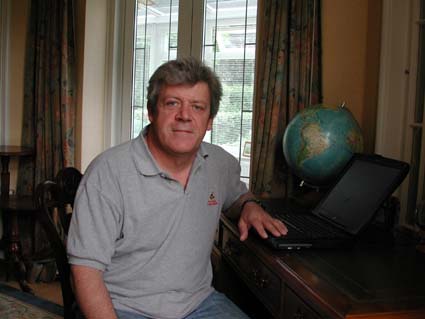 Thank you for visiting the HMS Royal Oak web site. I hope you will become as fascinated as I am with this powerful ship, the amazing story of her sinking and the beautiful islands of Orkney.
I first visited Orkney in 1972 and fell completely under its spell. The beautiful scenery, friendly folk and extra-ordinary history provided a captivating mixture.
As a keen diver and underwater photographer I was drawn to the Royal Oak and I have recently been fortunate to be allowed to document the wreck on film.
I first dived Royal Oak as part of an official expedition to film the wreck in 1979. The funding ran out and no film was ever finalised but my diving buddy Steve Birchall and I were taking still photographs and we produced an audio visual detailing the history, an account of her sinking and the first ever images of the wreck underwater.
In 1989 we applied to the Royal Navy for permission to produce a video to mark the 50th anniversary of her sinking and our 40 minute production has been available in Orkney ever since. This would not have been possible without the vision and support of Lt Cmdr Mike Croome-Carroll, head of the Royal Naval diving unit based at Rosyth.
In 2000 I was granted permission to update the video to mark the 60th anniversary. I am very grateful to Lt Cmdr David Turner who was head of the unit now based at Faslane for his continued support and enthusiasm. The timing of my application could not have been better as the oil seeping from the wreck was becoming a conservation issue and a unique ceremony was planned to lay the ashes of Dorothy Golding, wife of Bandsman Arthur Golding who went down with the ship, to be placed inside the wreck.
I was ever mindful that I was diving on a war grave and that families and relatives of those lost had mixed opinions but my intention was to produce a respectful documentary in honour of those who lost their lives.
The main filming took place in September 2000 with an additional week in October for the anniversary ceremony and the laying of the ashes.
The resulting footage took two months to edit into a 50 minute video which now replaces our original version.
My thanks go to Orcadians John Findlay and Eric and Mark Kemp for their help with the filming and especially to Mark Lennon, the Royal Navy overseer, for his excellent help with the lighting.
I am very keen for this site to grow and I welcome anyone connected with the wreck to contact me with relevant details which would enhance the site.
Peter Rowlands e-mail peter@hmsroyaloak.co.uk
Sound House, Andurn Estate, Down Thomas, Plymouth PL9 0AT
Tel 07941 399651