Model of HMS Royal Oak
Click on any image to see a much larger one
Sept 2007 update: More up to date digital photos can be seen by following this link
http://www.modelshipgallery.com/gallery/bb/hms/royaloak-700-jb/jb-index.html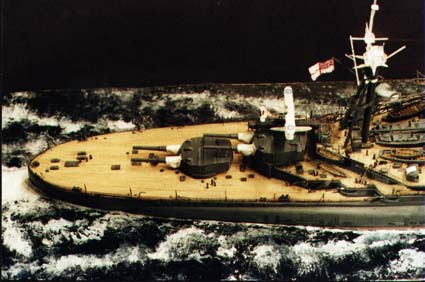 The model was built from a WSW resin cast kit, available from White Ensign Models here in the UK,
the kit costs about 68.00 GBP, but be warned, it is only a starting point. There is MUCH extra work required to produce a fiinished model....
Hope you like the model; I would welcome your comments.
The model portrays RO as in late 1937 early 1938, she is finished overall in AP507A dark grey with the neutrality stripes on fore turret.
Kind regards
JIM BAUMANN (nr Southampton)
jbys1@tiscali.co.uk