Pinnace 784
November 2008

As promised here is all the history of 784 I have to date it is an interesting story. I am still waiting to hear from the IWM about her use during Operation Dynamo in 1940. If She turns out to be a Dunkirk Little Ship too that would be the icing on the cake.

Boat 123 as She was originaly known was laid down in 1912 by Messrs J.T.Crampton, Portsmouth. Commissioned for the Royal Navy, She is 50' (15.24m) long and 10' (3.048m) wide. She is constructed of copper fastened double diagonal teak boards on elm (some reports claim oak) frames.She was completed and delivered to Devonport on 3rd April 1914 and was immediately put into reserve as She was just a hull at this time. By December 1918 She'd found her way to Portsmouth. An Admiralty letter dated 26th July approved the conversion of the hull in to a 'Steam Pinnace'. The Boiler machinery and fittings were provided by Messrs Mumford. The works costing £4754 were completed in March 1921. She returned to Devonport and was used as a Harbour Launch working in and around the docks.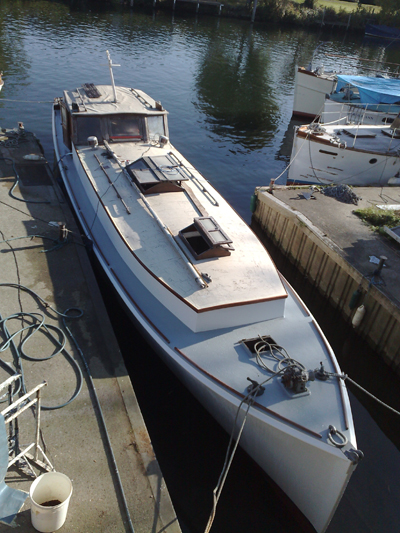 In March 1929 she is listed as "Unappropriated at Devonport. On loan to Captain A/S" (Anti Submarine). Presumably something to do with the A/S defences at the mouth of the harbour. This loan ended in March 1930. On 19th September 1930 She was assigned to H.M.S. Marlborough. But Marlborough was an ageing ship and SP784 was unappropriated again by June 1931, when H.M.S Marlborough was paid off. On the 8th January 1934 She was assigned to H.M.S. Malaya only for a month or two in lieu of SP182, whilst it was in repair. Then in march 1934 She was assigned to H.M.S. Royal Oak in lieu of SP637 which was lost. Whilst with H.M.S Royal Oak She somehow became damaged, the actual nature of this damage is unknown. But it was most often by hits from enemy aircraft and a number of mysterious plugged holes have since been found down her Starboard side. So SP784 was landed at Portsmouth for repairs. Royal Oak was deployed to the Home Fleet in Scapa Flow and SP784 was left behind for completion. On the 14th of October 1939 Royal Oak was hit by 3 torpedos from U47 and sank. With the loss of 786 lives. With no commission, SP784 remained at Devonport and was again used as a Harbour launch until 1941. In July 1941 H.M.S Royal Soveriegn, the Flagship and sistership of Royal Oak, arrived in Devonport for re-fit and SP784 was assigned to Her. She remained aboard Royal Soveriegn until 8th March 1943 when it was decided to 'pay off the parent' and SP784 was removed at Chatham and Royal Soveriegn was transferred to the Soviet Navy and became 'Arkhangelsk'. SP784 remained at Chatham and was looked at for conversion into a "Basin Boat".
In 1948 an AFO, [Admiralty Fleet Order] (589/53) was issued to 'look into the present whereabouts of a number of Motor Boats'. By February 1953 this AFO hadn't turned up a result for 784. No one would appear to have admitted holding Her and searches failed to find Her. She heads the list in the 'Special Military Branch Acquaint 2400/10 dated 6th January 1954 of craft for which approval had been given for removal from charge. Also on BR 1315, a list of small craft giving their appropriation. Where, edition after edition she was simply listed with no further information. So it seems the Navy never actually sold Her! At least there is no evidence they did. My friend at the Maritime and Coastguard Agency, who helped with this research, joked that maybe they should start a recovery action now that they know where She is. Strangely an M.O.D report I have says that the steam engine was removed in 1959 and was replaced with the current 7.4ltr Leyland diesel engine. Rumour has it that it was originaly in a 'Matilda Tank' this is unconfirmed (but it is being researched). So they couldn't find Her for looking but knew where she was to do that!
The current cabin design was built around this time too. With an aft cabin similar to the forward saloon, with three portholes eachside and an aft hatch.It was removed for reasons and by persons unknown in the late 70's. No record of the original builder or designer has yet been found. The search continues. She has changed hands a number of times since entering civillian life. Being Known as 'Ilta Louise', 'Memory' and a number of other names. Until February of this year She had been lying on the Grand Union Canal in Cowley. Neglected, nested in the mud and used as a rubbish store. Her condition was not great but She's was still afloat!
Needless to say my heart ruled my head and I bought Her. After some preliminary repairs and being renamed 'Fat Old Sun' She was moved down the canal and up to Teddington on the River Thames. She was moored at TS Saumarez Sea Cadet Corps for a short time where she drew a lot of attention from the Ex Navy staff there. 
Her next journey was to Michael Dennetts Boatbuilders at Laleham on the River Thames. Where She has had £11,000 of renovations and repairs over the last two months. This included extensive replacement of the outer hull boards, a large part of the transom and repairs to the stem post. The washdecks have had to be completely replaced as have the cabin sides. She is now water tight from above and below. There is still a lot to do, the wheelhouse needs a lot of work, possibly rebuilding and the aft cabin reinstating. Not to mention a complete interior refit. So quite a few thousand £'s to go!
I will keep you informed of Her progress and whereabouts and send you some up to date pictures. Lastly, one of her former owners was a Mrs/Miss Zoe Rowlands. Does anyone know her dates of ownership and who did she sell 784 to?
Best regards.
David Morris.
---
2004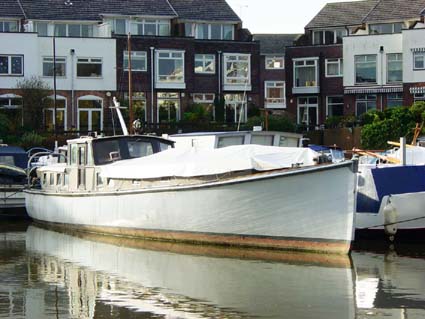 I was reading your website with interest, as I am the proud owner of No 784, who was assigned to HMS Royal Oak, and just happened to be in refit when Royal Oak was scuppered. (Her Forward, and aft cabins were covered during this refit), she was then reassigned to HMS Royal Sovereign.
We believe her 3(?) other pinnace went down with her.
I am just starting a restoration project on her, to replace parts of the super structure which were added when she was sold into civilian life, wheel house, and main saloon.
Her hull is intact, and she still has her original Leyland tank engine, it has since been converted to diesel, manuals etc, are present.
I do have some history on her, and letters from the admiralty, confirming her history.
I am in the process of registering her on the National Register of Historic vessels, where they feel she may be placed on their "core vessel" list.
I thought you might like to know she is still very much together, and much loved.
Best wishes, Zöe Rowlands(Dodge)
ZoeDodge@Shellys.Co.Uk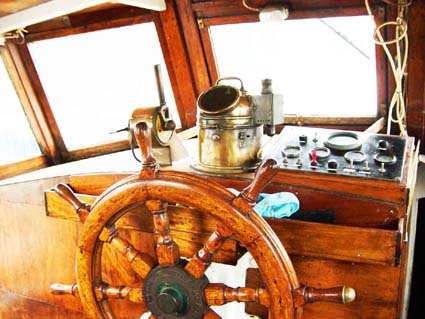 Back to the Main Menu